SunnySpot Productions Kicks Off Tony Awards Season with 15 Nominations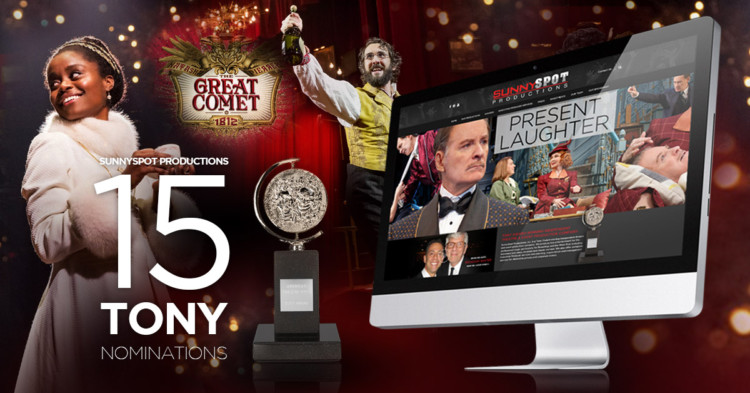 With 15 total, KWIRX client, SunnySpot Productions, is now the most nominated production company this awards season.
Congratulations are in order for SunnySpot as well as the cast and crews of Natasha, Pierre and The Great Comet of 1812 for their 12 Tony nods, as well as 3 Tony nominations for Present Laughter.
---
In early 2017, KWIRX launched 2 new sites for SunnySpot Productions at sunnyspotproductions.com and sunnyspotcelebrations.com
It's All About the Production Value
SunnySpot Productions is a Tony-award winning production company with an extensive portfolio of musicals, plays and specialty shows. KWIRX was tasked with creating a site that not only allows them to showcase each production with extensive images and videos, but also highlights the various awards earned by each.
Celebrations Featuring Broadway Talent
SunnySpot Celebrations is the event planning side of the company, and focuses on crafting larger-than-life celebrations featuring real Broadway talent, costumes, props and sets. sunnyspotcelebrations.com focuses heavily on showcasing the immense planning and overwhelming theatrics woven into each event with a huge library of images and videos.
Each site was built specifically for the needs of the SunnySpot staff and business model, and are great examples of how extensive custom development and large, rich composited imagery can be used to enhance the user's experience.
Need a Custom Developed and Designed Site?